Merchandise
Ultraman Trigger DX Guts Hyper Key Premium Ultraman Z Key Set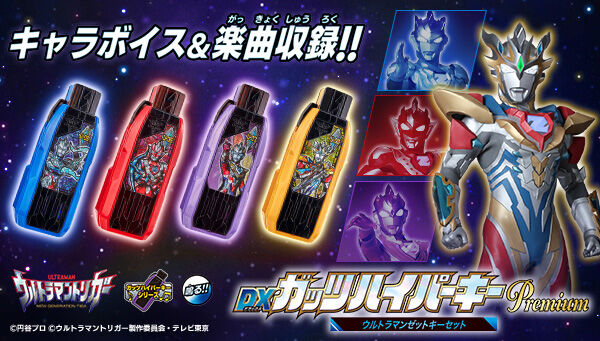 Premium Bandai announced their latest release in the Ultraman Trigger DX toy line, the Ultraman Trigger DX Guts Hyper Key Premium Ultraman Z Key set from Ultraman Trigger.
---
From Premium Bandai comes the DX Guts Hyper Key Premium: Ultraman Z Key Set. These Guts Hyper Keys first appeared in episode 7 and 8 of Ultraman Trigger: NEW GENERATION TIGA. In this two episode arc, Haruki and Ultraman Z land on the Earth of Ultraman Trigger! With the Z-Riser damaged and the Ultra medals stolen in a confrontation with Alien Barossa, Haruki uses a Guts Sparklens as an alternate way to transform into Ultraman Z. Designed by Akito, Haruki was also given a Guts Hyper Key for each of his forms.
This set includes:
one Alpha Edge Key
one Beta Smash Key
one Gamma Future Key
one Delta Rise Claw Key
The Hyper Keys also come with a voice mode and a soundtrack mode.
Voice mode will cycle through over 30 different lines from the Ultraman Trigger TV series. These lines are taken from Ultraman Z, Haruki Natsukawa, Kengo Manaka, and Akito Hijiri.
Soundtrack Mode will allow you to play one of four songs during transformation or finisher activation. These tracks were originally played in the Ultraman Z TV series. The songs included are:
"Please Chant My Name!" (Opening Theme)
"Ultra Spiral" (Insert Song)
"Connect the Truth" (First Ending Theme)
"Promise for the Future" (Second Ending Theme). 
The Ultraman Trigger DX Guts Hyper Key Premium: Ultraman Z Key Set from Ultraman Trigger will go for 5,500 Yen (tax included) and is scheduled for shipment in February 2022. Preorders are being accepted starting October 25th, 2021, at 23:00 JST.
Overseas fans can use From Japan to purchase exclusive tokusatsu merchandise. Click here for our guide to using From Japan.
Source: Premium Bandai