Figures
S.H. Figuarts Kamen Rider Slash Hanselnuts To Gretel Figure Announced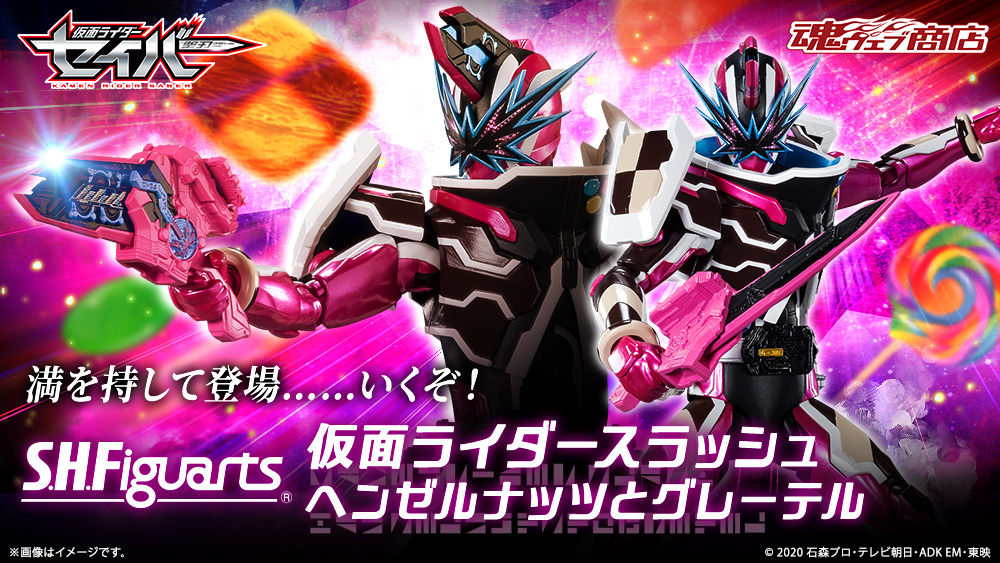 Premium Bandai revealed the newest release in the Kamen Rider Saber S.H. Figuarts figure line, the S.H. Figuarts Kamen Rider Slash Henselnuts To Gretal figure. 
---
"Hanselnuts to Gretel! Juuken Gekidan! Ju de go! Go! Ina! Ken de ikuzo! Onjuuken Suzune! Suzune Gakushou! Amai miwaku no juuken ga, okashina rhythm de beat wo kiri kizamu!"


Kamen Rider Slash Hanselnuts To Gretal is Slash's  Hansel and Gretel-inspired base form accessed by using the Hanselnuts To Gretel Wonder Rider Book in his sword, the Onjuuken Suzune. This release completes the Sword of Logos Northern Base members.
The figure stands at 150mm. When comparing the figure to Kamen Rider Buster and Kamen Rider Kenzan, careful consideration was made to accurately portray the characters' height difference.

The figure includes two replace blade pieces for Slash's weapon to switch between sword and gun mode. The figure comes with a total of five interchangeable hands, including Slash's iconic rock pose hand. 
The Kamen Rider Saber S.H. Figuarts Kamen Rider Slash Hanselnuts To Gretel figure from Kamen Rider Saber will go for 7,150 Yen (tax included) and is scheduled for shipment in March 2022. Overseas fans can use From Japan to purchase exclusive tokusatsu merchandise. Click here for our guide to using From Japan.
Source: Premium Bandai